bestbet Jacksonville Celebrating 10 Years!
Florida's Largest Poker Room Celebrates 10 Year Anniversary with Over $100,000 in Cash Giveaways and Drawings.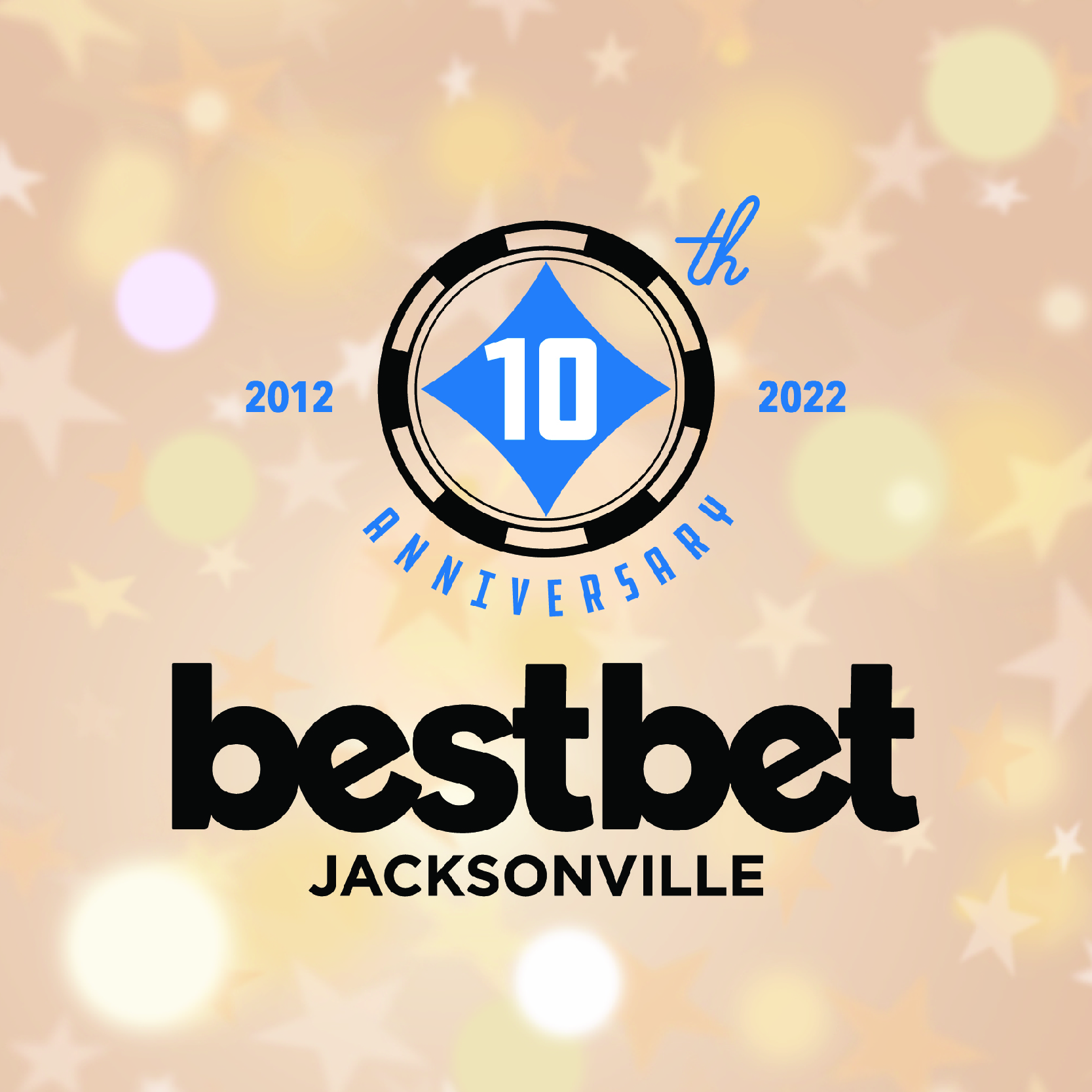 JACKSONVILLE, Fla. (March 4, 2022) – bestbet Jacksonville, the largest poker room in the State of Florida, will be celebrating its 10th Anniversary from Friday, March 18 – Sunday, March 20, 2022.
To celebrate, bestbet Jacksonville will debut $10 commemorative cash chips and pay out over $100,000 in cash giveaways with special promotional items throughout the weekend.
The Anniversary weekend kicks off on Friday, March 18 with a $10,000 table game promotion from 2pm – 12am with drawings every 60 minutes paying out two lucky winners $500 each. On Saturday, March 19th, a $140 No Limit Hold'em Tournament with a $10,000 bonus added starts at 12pm followed by a $2,000 high hand promotion running every 30 minutes from 4pm – 2am. The weekend celebration will conclude on Sunday, March 20 with a $1,000 high hand promotion running every 30 minutes from 10am – 12am.
Opening in 2012, bestbet Jacksonville renovated an existing facility located at 201 Monument Road and outfitted it with a spacious poker room, a VIP poker room, a full-service bar and kitchen, and a simulcast area boasting 120" flat screen TVs with Vegas style carrel seating.
"We are very excited to welcome all of our loyal and outstanding patrons to celebrate our ten years in the Arlington area," said Jamie Shelton, bestbet President. "Our success is only as good as our patron's experience while in our facility, and for that success, I thank all of our 700 plus employees for their outstanding efforts and work ethic."
bestbet Jacksonville quickly attracted players from all over the world through premier poker tournament partnerships with the World Poker Tour and the Card Player Poker Tour. bestbet's popularity continued to grow with the introduction of new card games in 2015. In 2021, bestbet saw its first two post COVID-19 poker tournament series attract more than 4,600 entries with $3.3 million in prize money awarded across a total of 22 events; record setting on participants and prize money.
"We are very appreciative of all of our partnerships over the years that have added to the excitement and positive player experience," said Shelton. "As for our success in 2021 with the return of our bestbet Poker Series, it was just great to see all of our friends and patrons having as much fun returning to tournament play as we did hosting them."
About bestbet
bestbet Jacksonville features two locations in North Florida and is the state's top poker, simulcast and gaming venue. The Jacksonville poker room, the largest in Florida, features over 80 tables at all limits, an expansive simulcast wagering facility, and an array of food-and-beverage service that includes sushi. The Orange Park location offers over 30 tables, simulcast wagering, and food-and-beverage service. The poker rooms are open 24 hours Saturday and Sunday, and from 10am to 4am Monday through Friday. In the Summer of 2022, bestbet will open a new cardroom and sports bar in St. Augustine, Florida.
bestbet Jacksonville is located at 201 Monument Rd., Jacksonville, FL 32225.