April 1010XL $110 NLH Main Event Tournament
Ariel Lauer Wins the 2021 April 1010XL $110 NLH Main Event!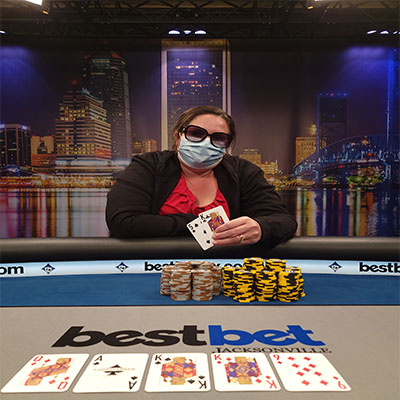 Congratultaions to Arel Lauer of Jacksonville, FL for taking down the record-setting field of 369 entries to take home the the first place payout of $5,698 after a two-way chop! This was the biggest turnout for this popular tournament which featured $110 bounties on 1010XL radio personalities: Allie McDEAL, Donna Murphy, Jeff Prosser, Denny Thompson, and Matt Hayes. By the end of the registration period, the prize pool swelled up to $31,533 and was able to pay out the top 47 players in the tournament. The event and final table were livestreamed on bestbetLIVE and you can watch all the action here on the bestbetLIVE YouTube Channel. View the Tournament Details.
The Final Table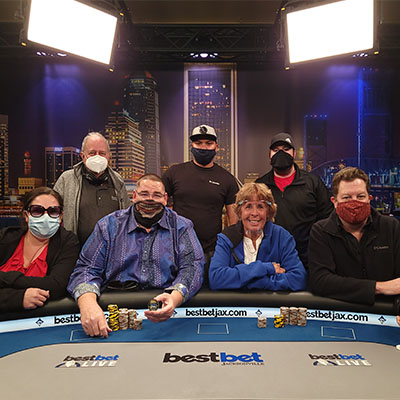 The State of Florida was well represented at the final table with all of the players hailing from the Sunshine State. The final table included: Ariel Lauer from Jacksonville, FL, Mark Marcellus from Jacksonville, FL, Albennes Armstrong from Jacksonville, FL, Lisa Peat from Fernandina Beach, FL, Michael Peat from Green Cove Springs, FL, Daniel Morrison from Lake City, FL, and Willard Cutler from Jacksonville Florida.